Hanover Market Town Hall Speakers
Business Solutions
Rachel Heller has spent the last 10 years at the Hanover working across the Personal Lines organization. The past five years have been dedicated to the growth of Hanover Prestige. Rachel works with agents and internal teams to continuously understand emerging agent and customer needs.
AVP, Director of Prestige Claims
Brae has been in the claims field for 21 years, most of her career has been spent in the high net worth space. The past two years she has spent building out the Prestige claims response for the Hanover Insurance Group. She works both internally and externally to make sure we provide the best possible experience for our Prestige customers.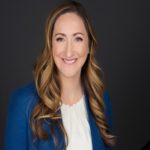 Justina Kubat
Prestige Underwriting Manager
Justina Kubat joined the Hanover in 2016 working with the underwriting team on developing Prestige.  Justina has helped grow the prestige segment over the past five years, leading the Prestige Underwriting team the past two and a half years .  She has 18 years personal lines insurance experience and has worked in both sales and underwriting throughout her career.
VP Strategic Initiatives
Brad McCreedy has spent the last 15 years working in Personal Lines insurance, most recently building the Prestige business unit at Hanover. Brad's team encompasses strategy, research, marketing and agent experience functions.