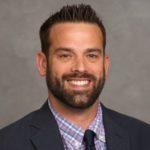 Bradley Sawyer
Platinum Accounts Director, AIG
Throughout his career, Brad Sawyer has successfully driven client engagement and satisfaction through a keen focus on building relationships and relentless focus on delivering value. Brad serves as Platinum Accounts Director as a part of AIG Private Client Group's Platinum Account team, which specializes in the largest and most complex accounts with premiums in excess of $250,000. Brad has an extensive background in Risk Management, working with Risk Managers, Family Office, agents and clients and is certified in lightning protection basics and is a level 1 thermographer through Flir.
During his 15 years of experience within AIG's Risk Management Services department, Brad has inspected high-value homes with complex needs in more than 30 states throughout the country and the Bahamas.
His deep industry and technical knowledge, combined with his professionalism and customer-centric approach, has brought peace of mind and consistent value to hundreds of clients seeking to protect their lifestyle and safeguard their homes.