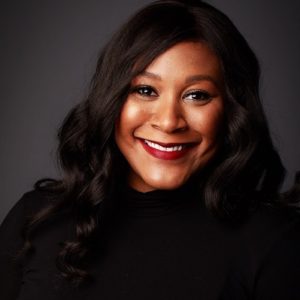 Denise Campbell
Denise Campbell is Assistant Vice President, National Accounts at AIG where she works as a Client Director since 2019 to service AIG's most engaged major accounts through managing relationships with risk managers, insurance buyers and key client executives at their biggest trading partners. She started out her professional journey working in the A&R department of Atlantic Records after completing her Bachelors of Science in Music Technology at NYU. In 2008, she joined AIG's Multinational Home Office as an administrative assistant and ascended to various roles within the department over the next 7 years.  In 2015 Denise transitioned to a Business Development Manager within AIG's New York Region, working with AIG's distribution partners to grow relationships and premium across all lines of business within their commercial products.
During her time at AIG, she joined the Black Professionals Employee Resource Group (ERG), first as an
active member but eventually leading the New York organization for three award winning years, where
they were recognized for excellence in Business Integration. She currently serves as Business Advisor to
the ERG along with her former Co-Chair.
In addition to her day job at AIG and the Black Professionals ERG, she participated in the Global Inclusion
and Cultural Agility Business Integration work stream, where she was on the committee that proposed a
new travel product geared towards more diverse consumers. She's also heavily involved with working
with local and global leadership as well as HR as the company works to increase their diversity
recruitment and retention. In 2018 she completed AIG's Accelerated Leadership Development Program
as a part of the first cohort for the initiative geared towards professional development for high potential
employees from a diverse background.
Outside of AIG Denise has always sought to get involved socially and civically. Denise has volunteered
with the "I Have A Dream" Foundation where she spent her Saturday Mornings tutoring students in
Ravenswood, Queens. She's been an active participant with Junior Achievement and the Police Athletic
League through AIGs corporate responsibility relationships. In 2012, she joined the National African
American Insurance Association and is now President of the New York Tri-State Chapter.  She holds a
position on the Board of the Water Street Club and served through 2019 on the Emerging Leaders
Advisory Council for the Insurance Federation of New York. Through these organizations she works
tirelessly to bring diverse talent into the insurance industry and provide them with the exposure and
knowledge they need to advance and stay in the industry.
Denise received her Bachelors of Arts from New York University with a major in Music Technology and
has received a Certified Project Manager Designation from the Project Management Leadership Group,
Inc.