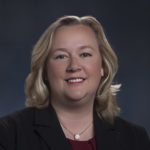 Jennifer Naughton
Executive Vice President, Chubb
Jennifer Naughton is the Executive Vice President and Risk Consulting Officer for Chubb North America and has responsibility for leading the North American Risk Consulting Practice in Personal Risk Services. Key responsibilities include development and execution of strategic initiatives, services, and client engagement. Jennifer has over 26 years of experience in the industry and has been with Chubb for 24 years. Prior to joining the Personal Risk Services Team in 2015, she had held field, home office, and management positions within Chubb Commercial Risk Engineering.
Jennifer graduated with a Bachelor of Science Degree from Illinois State University. Her field of study was Occupational Safety and Health and Fire Science. Jennifer is a member of the American Society of Safety Engineers and was one of the founding members of Underwriters Laboratory Insurance Council. Additionally, Jennifer is a Chubb Advisor of Personal Insurance, awarded through the Wharton School of the University of Pennsylvania.