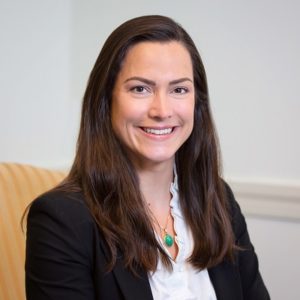 Jessica Stoecklein DeFelice

Director of Private Client Services​, Simpson & McCrady LLC​
Jessica is the Director of Private Client Services at Simpson|McCrady and is responsible for community awareness of the Private Client Services capabilities and client relations. Simpson|McCrady is an insurance and risk management firm that specializes in helping successful, affluent and high net-worth individuals and families. ​
Prior to joining Simpson|McCrady in 2014, Jessica worked for AIG Private Client Group as an Underwriter for over eight years with a specialized focus in VIP account underwriting. During her time at AIG, she handled various territories throughout the New England and Mid-Atlantic regions. ​
She attended Villanova University for her undergraduate studies and earned her Bachelor of Arts degree in English and Business minor. She was one of the first 149 graduates in PRMA's CPRIA program in 2017.​
Jessica resides in Pittsburgh, PA with her husband, Richard, their son, Tripp, and their English Pointer, Remington.  In her free time,  she loves taking the opportunity to enjoy the outdoors with hiking, camping, fly fishing, mountain biking, and skiing.​