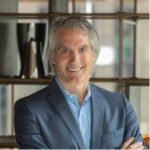 Stephen G. Poux
Senior Vice President, Global Head of Risk Management Services & Loss Prevention, AIG
Stephen G. Poux is Senior Vice President, Global Head of Risk Management Services and Loss Prevention, for AIG Private Client Group, a division of the member companies of American International Group, Inc. (AIG).  Steve oversees a team of seasoned risk management specialists who help high net worth individuals and families maximize safety and proactively reduce the likelihood of suffering a loss.
Steve has over 33 years of property casualty insurance experience.  He joined AIG in 2000 as one of the founding members of AIG Private Client Group and was instrumental in building client-centric business practices that remain in use today.  In 2004, Steve was the principal architect of AIG Private Client Group's Department of Loss Prevention, which was the first practice of its kind within the high-net-worth personal lines industry.  As Director of Loss Prevention, he was responsible for launching other industry firsts, including AIG's Wildfire and Hurricane Protection Units.  Throughout his tenure he has appeared on CNBC and been featured in publications such as The New York Times and The Wall Street Journal. Most recently, Steve participated in a Congressional Science Briefing on wildfire preparation where he spoke about the most significant threats to homeowners in wildfire prone areas and shared the best way to protect property from damage.
In 2007, Steve took on the General Manager role for AIG Private Client Group's New York City/Long Island Region.
Prior to joining AIG, Steve spent over 10 years with Fireman's Fund and Chubb, gaining valuable experience in the affluent and high net worth personal insurance segments.  He has a BS in applied mathematics, statistics and economics from Stony Brook University.