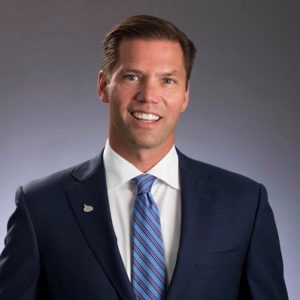 Spencer M. Houldin
President, Ericson Insurance Services
Spencer M. Houldin is President of Ericson Insurance Services (CT, NYC, MA). He has twenty nine years of experience as a personal insurance advisor and leads Ericson's high net worth personal insurance division. Spencer is licensed throughout the United States.

Spencer has been very involved in the industry throughout his career. In 2017, he was the 112th Chairman of the Independent Insurance Agents and Brokers of America ("The Big I") the nation's oldest and largest national association of independent insurance agents and brokers with 300,000 members. 

Spencer has testified on Capital Hill on numerous occasions in front of both chambers of Congress on topics ranging from the modernization of the insurance industry to the National Flood Insurance Program. 

Spencer has appeared on Fox television's morning program, Fox and Friends, multiple times regarding insurance and small business matters as well as various shows on CNBC, MSNBC, Fox Business and CNN. He has been quoted in dozens of national periodicals, including the Wall Street Journal, and has been a regular contributor to Worth magazine.

Throughout his career, Houldin has held seats on agent advisory councils for many insurance companies.

Spencer's civic contributions are wide, mostly surrounding local health care. He is currently the Chairman of the Board of Danbury Hospital, Danbury, CT. 

A graduate of Lafayette College, Spencer lives in Roxbury, CT with his wife and two sons.